Ridex Washlet Elongated Toilet Seat - Colonial White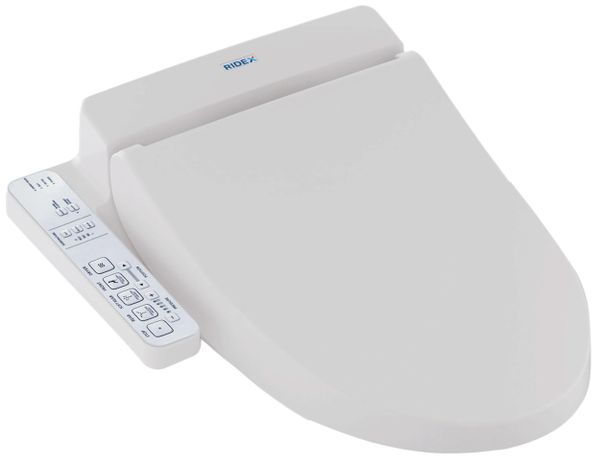 The Ridex Washlet Elongated Bidet Toilet Seat with Premist delivers ecology-minded luxury in a streamlined design. The Washlet is fully automated, featuring a soft rear spray, rear cleanse, and front cleanse with the option of an oscillating stream. The controls are located on a convenient arm control panel. The Premist function sprays the bowl with water before each use, preventing waste buildup and keeping the toilet bowl clean. The wand is self-cleaning, automatically cleaning itself before and after every use. The Washlet features a heated SoftClose seat with three temperature settings. The temperature and pressure of the water are adjustable with three temperature settings and five pressure settings. The Washlet features an air deodorizer and a warm air dryer with three temperature settings. Cleansing with soothing warm water is more comfortable than traditional toilet paper that can sometimes be rough. Using a Washlet reduces the amount of toilet paper needed. Not only are you saving the trees that make toilet paper, you're also saving the water used during manufacture. One roll of toilet paper requires four gallons of water to make! As we get older, our mobility can deteriorate and make it increasingly hard to clean ourselves after toileting. Medical conditions such as ALS, MS and other debilitating illnesses can make using the bathroom without assistance almost impossible, but with a Washlet, just the touch of a button can leave you feeling clean. Ridex® Washlet Elongated Bidet Toilet Seat with PreMist™, Cotton White - RD3002#04
| | |
| --- | --- |
| Features | No features description available |
| Shape | Elongated |
| Material | Plastic |
| Brand | Ridex |
| Manufacturer Part Number | RD3002#04 |
| Assembled Product Weight | 20.5 lb |
| Model | RD3002#04 |
| Assembled Product Dimensions (L x W x H) | 23.50 x 20.50 x 9.00 Inches |
C100 Luxury WASHLET Features:
PREMIST

 

Using incoming water supply, a misting of the toilet bowl is performed before each use.

The slick surface creates a more hygienic environment by helping prevent waste from adhering to your toilet.

Reduces cleaning time and frequency.

 

 

 

Heated Seat

 

The specially designed, contoured seat is heated to provide maximum comfort.

Three temperature settings allows users to choose their perfect level of warmth and maintain that desired setting.

Early in the morning or through the winter seasons, this heated seat will keep you warm and cozy.

 

AIR-IN WONDER WAVE

 

Innovative AIR-IN WONDER WAVE technology provides a strong, yet gentle water stream.

The water is injected with air to enlarge the droplets and create a superior cleanse without being too harsh.

Water is fired at different speeds, allowing smaller droplets to collide with larger ones and fill with more air.