MoliCare Skin Washcloths Soft Pack Aloe Vera/Lanolin 192 Count (4 Pack of 48)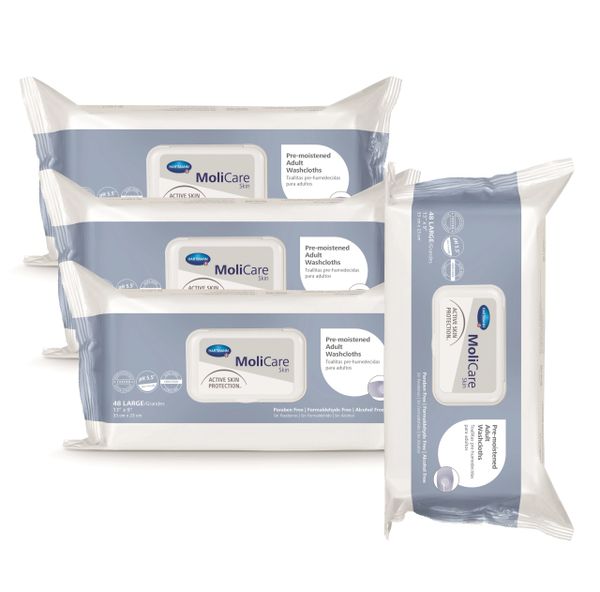 👍 MoliCare Pre-moistened Adult Washcloths helps maintain a 😊skin-friendly pH of 4.5-6.5😊.
👍 These ultra-strong, soft and puncture resistant cloths are conveniently packaged in a space-saving, resealable pop-up dispenser.
📦 Comes in 4 packs of 48 Premium wipes 📦
Skin health plays a central role in our general well-being. This applies especially to care-dependent elderly people, whose skin may be subject to particular stress due to incontinence and bed confinement.
✔️ Paraben and Formaldehyde-donor free
✔️ Hypoallergenic and alcohol-free to prevent skin irritation
✔️ Helps maintain a skin-friendly pH of 4.5-6.5
✔️ Ultra-strong, soft and puncture resistant cloths are conveniently packaged in a space-saving, resealable pop-up dispenser
✔️ Gentle aloe vera and lanolin provide effective cleansing
✔️ More economical than traditional cleansing with soap and water
✔️ Not made with Natural Rubber Latex
❗❗
NOT FLUSHABLE WIPES
❗❗
✅ Paraben and Formaldehyde-donor free

✅ Hypoallergenic and alcohol-free to prevent skin irritation

✅ Helps maintain a skin-friendly pH of 4.5-6.5

✅ Ultra-strong, soft and puncture resistant cloths are conveniently packaged in a space-saving, resealable pop-up dispenser

✅ Gentle aloe vera and lanolin provide effective cleansing

✅ More economical than traditional cleansing with soap and water

✅ Not made with Natural Rubber Latex