Incontinence Bed Pads [48 Pack] Underpads 30 x 36 Disposable Ultra-Heavyweight Super Absorbent & Waterproof, Patient Repositioning [375 lbs.] Maximum Strength Breathable Backsheet for Skin Protection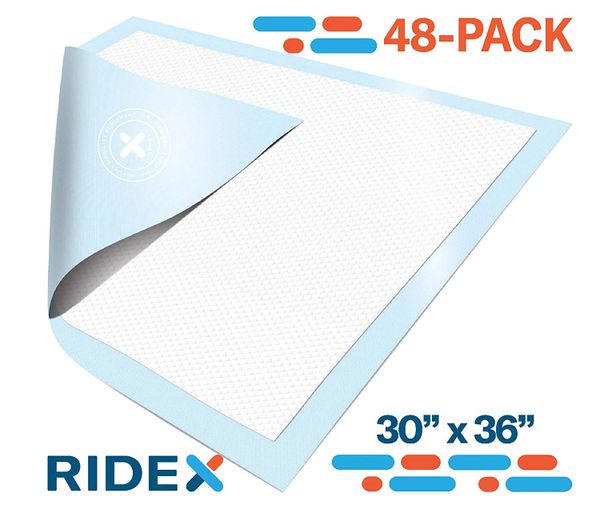 Super Absorbency: The absorbent core wicks fluid away from the skin and reduces prolonged exposure to moisture, it will feel dry to the touch in minutes, it's superior leakage control eliminates the need for multiple pads.
Advanced super-absorbent polymer core: Soft breathable topsheet supports patient comfort better than bulky reusable pads. Made of super absorbent polymer to lock moisture and urine away and quickly turn them into gel. 100% Latex Free, these underpads contain no Irritating chemicals, salts, or dyes to help prevent any Itching or discomfort.
Maximum strength breathable backsheet: High tensile strength backsheet enables staff to reposition residents up to 375 lbs. Air-permeable backsheet helps keep the skin dry, the low profile keeps resident closer to the support surface and helps its overall effectiveness.
Furniture Protection: In addition to protecting beds, these chux are also Ideal for superb coverage for your couches, chairs, recliners, wheelchairs, and more.
Dog Training: These maximum absorbent Pads Also Serve as the Ideal Dog Training Pads- With a Built In Attractant and Odor Neutralizer.
Adult Protective Underpads:
As a Caregiver, you can be sure to trust Ridex Medical Maximum Absorbent Under-pads to ensure the dignity and comfort of the person for whom you're caring, whether they are bedridden, wheelchair bound, or dealing with a temporary incontinence problem.
No matter the situation, Ridex has you covered. These supremely comfortable quilted and absorbent pads, also commonly referred to as "Chux" offer a reliable, discreet, and comfortable solution.
Puppy Training Pads:
In addition, these pads may also be used as dog training pads to provide an indoor potty solution for your pet.
They are 80% larger than most similar underpads, and consist of layer upon layer of superbly absorbent, durable materials, even when wet.
The revolutionary design of these pads offers the best of both worlds: cloth like strength combined with the convenience and sensibility of a disposable.
Try them- you won't be disappointed!
UPC: 850001955126