Shower Chair with Back, Best Bathtub Chair for Handicap, Disabled, Seniors & Elderly - Adjustable Medical Bath Seat Handles for Bariatrics - Non Slip Tub Safety,White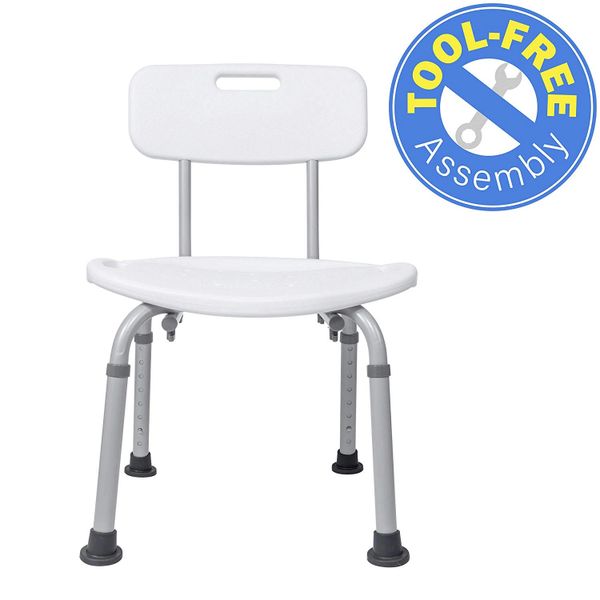 Product Specifications
Material: Plastic rust-proof aluminum, Rubber feet pad
Max Weight Capacity: 250lbs when you assembly correct
Seat size: 11.8x19.49in / 300x495mm
Seat height range: 15.55-22.4in / 395-570mm
Transverse leg width range: 16.73-17.72in / 425-450mm
Side leg width range: 16.93-19.68in / 430-500mm
Ridex bathroom safety shower stool, allows you or a loved one have a pleasant bathing experience, a tool in safety, security and stability.
It helps alleviate the worry and unease that arises from a fear of falling while in the tub or shower.
This seat features an aluminum frame that makes it lightweight and durable. Total weight 5lbs, it is easy to move in and out of the tub as needed.
It is also corrosion resistant for long-lasting use in wet environments.
The holes in the seat of this bathroom safety chair allow water to drain through and reduce the risk of slipping.
The legs are adjustable in 1" increments so the height can vary from 15.5" to 19.5" for different needs. The suction-style tips give this seat even more stability.
It has a weight capacity of 250 lbs. It is easy to assemble without any tools.
Please be sure to use the shower stool under correct installation. And after some time, if the triangle screw is loose, please tighten it.
Attention
1.The shower bench designed to use in bathroom or bathtub, when you plan to use in the bathtub, please measure the size of your tub first, or you could consult us before purchase.
2.Since legs of the chair are made from aluminum, it is malleable, screws may loosen after some time of using, so please check and tighten all screws after some time of use.
3.Please install and use under the correct guidance. If you are unsure whether it was right assembled, or you have a problem during assemblage, please contact our customer service team for help.
MPN: RD4004
Item Model Number: RD4004
UPC:  798216384693